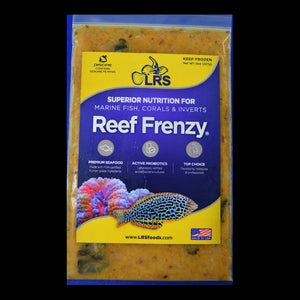 LRS Reef Frenzy® 8oz
Regular price $22.00 $20.99 Sale
Reef Frenzy® is an all-in-one "super food" produced by a family of reef addicts who blend premium, human grade, wild caught seafood into an aquarium food for your fish.

The "buzz" on social media surrounding LRS is grounded in one simple fact. We DO take fresh, wild caught, chemical free seafood and process it into a superior blended aquarium food which is unlike anything available. Our blends are supplemented with industry staples such as genuine PE Mysis® shrimp, Euphausia krill, rotifers, probiotics and more to create the ultimate reef aquarium food.

The freshness and complete nutrition is why more hobbyists, breeders and public aquariums are choosing LRS over any other blended food product.  You can rest assured that LRS food blends contain NO GARLIC since recent studies indicate marine fish cannot metabolize this terrestrial substance and it may in fact be harmful to fish if ingested long term. 

Check out our updated Testimonial page to see some of the captive breeding projects LRS has been involved in.

http://www.larrysreefservices.com/testimonials.html

Our temperature controlled enriching process adds 100% natural beta carotene, fatty acids, and lab verified probiotics to every batch to create what many industry experts refer to as "the highest quality commercial food ever produced."

Check out this behind-the-scenes tour....




Here are just a few of the benefits of LRS Frenzy Foods:
Feed directly from the package to your tank!!...NO MORE STRAINING!!

Finicky fish begin eating & acclimate faster as proven time and time again  


The 1st

 

frozen food to contain active probiotic cultures 



100% crafted by hand, by hobbyists FOR hobbyists!

MADE IN THE USA using 100% food grade NSF stainless steel processing equipment


Independent laboratory analysis is conducted to verify the nutritional profile 

Increased vigor, pigmentation and health are observed when feeding a nutritious diet like LRS.